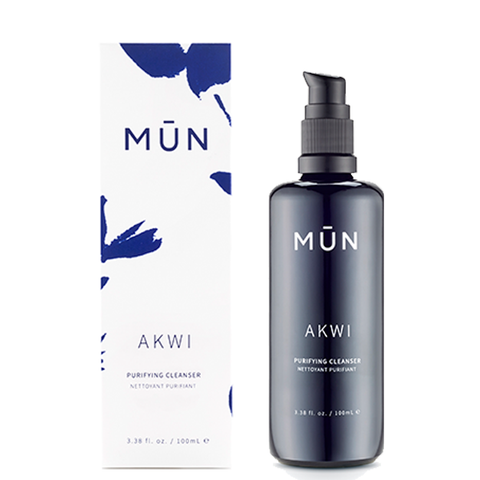 MŪN
Akwi Purifying Cleanser
$65.00
You Might Also Enjoy
Reviews/Questions
15
Total 5 star reviews: 15
2
Total 4 star reviews: 2
0
Total 3 star reviews: 0
0
Total 2 star reviews: 0
0
Total 1 star reviews: 0
100%
would recommend this product
Nancy R.

Verified Buyer

Nice cleanser

I like this cleanser and feel that my skin is very clean after using it. It does not really emulsify with water but does a nice job. I usually use it as a first step in a double cleanse.

Very nice gentle cleanser

This cleanser is great. Very gentle but still removes makeup, and leaves behind a slight moisture. I generally prefer cleansers that rinse more fully, but on days when my skin has been drier than usual or the weather harsher, this has been a nice option to clean and soothe my face

Soothing gentle hydrating cleanser

This cleanser is perfect for more mature skin as it deep cleans without stripping while brightening, smoothing, refining, and hydrating leaving smooth. If you feel dehydrated, this cleanser is a great one! Massage it into dry skin for as long as you like, you'll instantly feel a soothing pampered sensation, whenever you're ready, add some water and it turns into a milky liquid. Keep naggasing and he tky cleaning your face. Rinse when done and your skin is soft as satin! Plumped and happy without irritation! Go Mūn!

BEST cleanser I've ever tried. Ever!

This cleanser is something really special. Let me break it down for you. The texture: smooth and creamy with the fluidity of an oil. The scent: there is the slightest bit of a smell, but nothing at all overpowering or artificial. Just a soft, clean, and relaxing scent. I use 6-8 pumps as directed for my PM regime, but I find that I only need 4-5 pumps in the AM. What really amazes me about this cleanser is that it removes all traces of makeup gently and leaves my skin SO nourished. This is the first cleanser that I have ever used where my face feels hydrated and lush afterward. It's like a hug for my face (and I love hugs)! :) I have been experiencing flakiness all over my face for a long time, and no matter how much oil/moisturizer I would apply it wouldn't go away. Since I've been using AKWI, it is gone! Not a single flake in sight. I also have to mention the importance of this cleanser being pH balanced. I feel that not enough skin care companies mention the pH of their products. I'm beyond grateful to have found this brand. The fact that this cleanser delivers on its promise all while being vegan and cruelty free to boot. Oh this cleanser...I could go on and on...Thank you Munemi and Anas for creating this beautiful product! I LOVE it! I look forward to trying the toner next! Hugs!

Amazing cleanser

I use this as my first cleanse in the evening. I apply 5-6 pumps in hand and then apply to dry face. It removes my makeup including my eyes. I remove it with a soft wash cloth and it gently removes my makeup never burning my eyes. I then follow up with my last cleanse. On a day I go without make up I could use it as my only cleanser. It is gentle yet still effective and has never irritated my skin. I will continue to repurchase as this is a must have in my skincare routine.
Reviews Loaded
Reviews Added