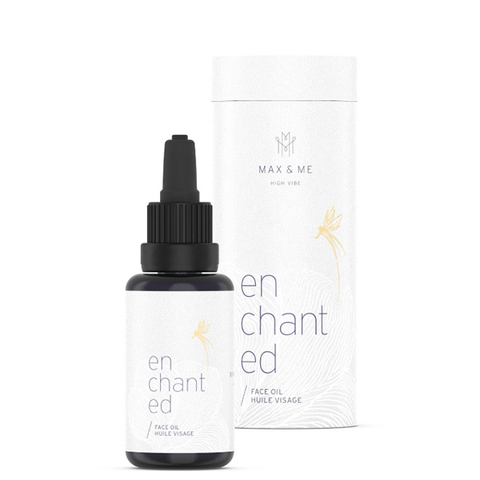 Max and Me
Facial Oil: Enchanted
$130.00
Reviews/Questions
Total 5 star reviews: 5
Total 4 star reviews: 1
Total 3 star reviews: 0
Total 2 star reviews: 0
Total 1 star reviews: 0
100%
would recommend this product
Mary Z.

Beautiful oil

I love Max and Me skincare and this oil is lovely. The scent is so good!!! It's a light oil in my opinion that absorbs well. I am loving Mahalo Beauty right now but I would definitely repurchase.

This oil feels so wonderful

This oil feels so wonderful on my sensitive skin and it's just what I need during winter. Plus, it smells great too!

The absolute best facial oil out there <3

Ah.. Again I'll begin this with by explaining I began as a child working with spirit and all that entails. As I grew, I ascended, guided to utilize the highest possible vibrating crystals, Oils, frequencies, everything. Max and Me is that inside the most beautifully resonating perfectly with Me products tat I have ever used. I've found my match and give thanks and praise daily as this had immediate changes that continued with use which are unparalleled! Reactive skin? Acneic Skin? Hormonal skin? This is the most cooperative oil while actually doing all it claims for the skin and spirit, chakras, and the scent is from Oils I'd have chosen myself. The energy moves through skin like a kundalini awakening and my tone brightens, evens, balances, acne dissipates, is prevented, and hydration with extreme healing nourishment continues to bless my face. This is by far the most remarkable oil for me. Once in a while I may top it with This Is The Light Oil for when I feel I need extra *oil* hydration. Otherwise I always top this Max and Me The Beauty Balm unless I had a instance where Rescue Balm is needed. It has served my skin beyond belief yet it's true! I'm forever grateful. Just a tiny amount is all necessary to reach the entire face so the full size lasts forever! Such a beautiful blend that's truly enchanted and enchants the user. Any night I chose not to use Max and Me, my face yearned for it as did my senses. Please don't hesitate to try these formulations due to talk of high…

The enchanted facial oil has

The enchanted facial oil has a fantastic ingredients list, and upon researching the company I am very impressed with how they source their ingredients and produce their products. I found the oil nice to use and it absorbed well, without irritating my sensitive skin.

Nice while it worked

This is a lovely oil with wonderful ingredients and for a while, I could see an improvement in my skin tone. I have some ruddiness, and lots of hyperpigmentation and the oil was helping my skin looked healthier and less blotchy. Unfortunately it seems to have plateaued as for the last week or so, I am seeing no improvement and in fact, one area is back to the way it was before using the oil. :( I think this oil is a lovely oil for people who may have less sensitivity in their skin. I am just glad I bought the sample size (twice) and not the regular size bottle.
Reviews Loaded
Reviews Added