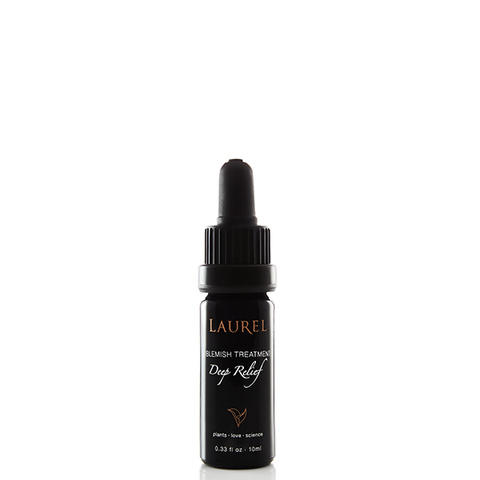 Laurel
Blemish Treatment: Deep Relief
$68.00
Reviews/Questions
Total 5 star reviews: 7
Total 4 star reviews: 4
Total 3 star reviews: 0
Total 2 star reviews: 0
Total 1 star reviews: 0
100%
would recommend this product
Love this stuff

I have really bad acneic skin. I have really bad scars too. I believe that this does help my breakouts heal faster and also prevents them from forming. The other products I use in my routine could also be helping, but I still think this product helps the most. I was hesitant to buy, because of the price... But I was sick of looking at how bad my skin was. So I bought it and I don't regret it. You only need 1 or 2 drops for your whole face. It also doesn't dry out my skin. The scent can be a little overpowering when you first apply it, but it wears away as it absorbs into the skin. Overall, I love this stuff. It does wonderful things to my skin.

Application: First, I apply a moisturizer or oil to my face and let it absorb for about 5 minutes. Then I apply this blemish serum.

Other products I'm using: I'm using the Laurel sun damage repair oil and the hynt moisturizer in the morning, and the mahalo indigo balm at night.

Rachael R.

Cystic acne relief

Wow - this is THE ONLY product that has EVER worked on my cystic acne. I apply more than directed, about 3 drops, to the deep, red cystic bumps on my jawline and cheeks. I was shocked that overnight the cysts shrunk and dried up. I've never had such an incredibly quick resolution to my acne! In ten days the extensive acne all along both lower cheeks and jawline had completely disappeared and there were no scars!! I always get scarring, this was such a miracle. This also significantly brought down redness. The serum smells strongly of thyme and the scent does linger for about 20 minutes afterwards. I personally love this aroma, but just an fyi. If any of your skin is broken or bleeding, this will sting when applied. On unbroken cysts, I feel a cooling or slightly tingling sensation.

Have Gone to Multiple Times

This serum doesn't work instantly but I definitely notice a difference after a few days. I like being able to use during the day and layer with other products.

Turned around my chin/mouth acne

I bought this when I was in a spiral of several months of stubborn breakouts, including cystic acne on my chin and other blemishes around my mouth. My regular skincare routine (already natural beauty brands that have worked quite well for me in the past) was not making it worse, but not making it better, either.

While this product didn't shrink my acne overnight in dramatic fashion, after several days of 2x/day application, my face was noticeably better -- smoother, fewer new pimples, reduced old acne. Now about two weeks in, I'm noticing that when I run my fingers across my chin when washing my face, the small pre-acne bumps under the surface of the skin are mostly gone! During my flare-up, I felt I had to put on concealer or light foundation every day or else my acne would be extremely noticeable, but I'm back to only wearing concealer occasionally now (which undoubtedly also helps with the healing, even if I do try to use clean brands).

Sandra W.

Must have acne treatment

This acne serum treat my hormonal acne across jawline quite well. The scent is herbal is uplifting which I love. The bottle lasts Around 3-4 months if used daily.
Reviews Loaded
Reviews Added