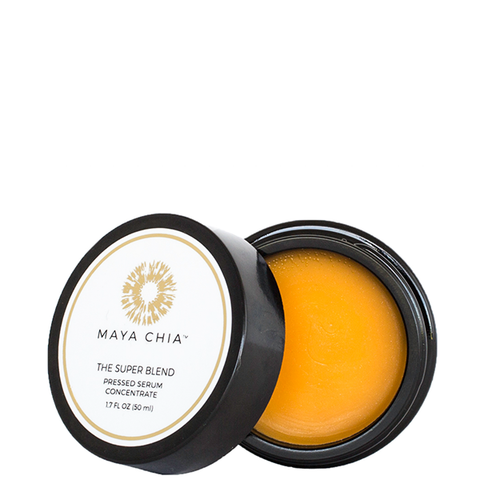 Maya Chia
The Super Blend
$105.00
Reviews/Questions
Total 5 star reviews: 28
Total 4 star reviews: 5
Total 3 star reviews: 0
Total 2 star reviews: 0
Total 1 star reviews: 0
100%
would recommend this product
Love for lips and cuticles.

I tend to enjoy this more on my lips and hands than on my face, though is certainly has never caused my face any issues when I've tried it that way. Creamy with what smells to me somewhat citrus in scent. Really comforting on dry spots.

EA

The best face balm

I know it's a pressed serum, and not technically billed as a balm, but I love it as both, and it is the best multi-tasking product out there. It truly does it all. Simplicity and efficacy in a jar!

B

Love this stuff

This is my first time using it, and I did buy some other skin care not from this website, but I keep going to this one every morning and night. I am considering just buying more products from this line. My skin just drinks it up, and I have olive skin tones, so it really helps with dry skin and keeping your skin hydrated. I have also noticed it helps with blemishes too.

A complete game changer

For me, this is a standout product of 2016. I tried a sample a while back from a friend and I loved it but wasn't in the market for anything new so it just sort of stayed in the back of my mind. I could not stop thinking about how much I like it but was not sure if it was the product or if my skin was just being nice that week, so I ordered a sample from integrity with my de mamiel order and quickly realized it was the product. This stuff is magical for my skin. After one week my skin look better than it has ever looked in 27 years... glowy, clear, plump, and i finally didn't look tired! I was using in conjunction with de mamiel atmospheriques elixir so to confirm that is was just the super blend I stopped using the elixir for a week and only used the super blend. Same results (although the elixir helped to plump up my lines better than the super blend). It really is a powerhouse of ingredients and my skin reacts so well to all of them. After two pregnancies in my twenties my skin has fluctuated to every end of the spectrum. Now I'm finally getting a handle on what works for my skin and through all the trial and error this has really stood out. I finally caved and got the full size (should be in my mailbox today actually!)

*for reference I have easily congested skin with hormonal acne/acne related to poor diet or gut health, dehydrated, SUPER pale and I live in a desert climate.

Very nourishing

The super blend is very nourishing and really makes my skin feel plump in the AM. It is very concentrated thus I only use it at night. I have to take 1 star out because although I found this product to deliver, it contains 1 ingredient I wish it does not have... "beeswax." I am however keeping this product and will use on very dry areas like my cheeks. For reference I do have oily/dry/normal combo skin. I also intend to use it on eczema flare outs that I occasionally have on my eyelid. Integrity Botanical did send me a sample of the Super Couple and I'm really loving it, in fact I already purchased it and should arrive soon. The super couple does not contain beeswax.
Reviews Loaded
Reviews Added