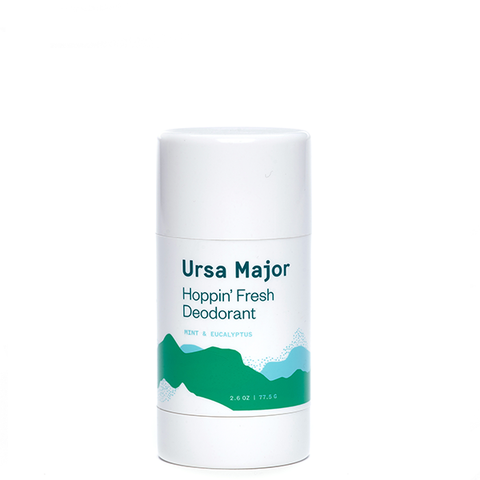 Ursa Major
Hoppin' Fresh Deodorant
$18.00
Reviews/Questions
Total 5 star reviews: 6
Total 4 star reviews: 1
Total 3 star reviews: 1
Total 2 star reviews: 1
Total 1 star reviews: 0
78%
would recommend this product
I do not recommend this product

Unfortunately Overrated...

I purchased this initially for my husband since he is a big fan of the Ursa Major face wash. He's been using natural deodorant for a couple of years and is a light sweater but this simply did not work with keeping odor at bay. I then decided to give this a try due to the clean unisex scent of citrus, eucalyptus and peppermint. I too have been using natural deodorant for several years but this wasn't for me either. Something about the formula just did not work with our body chemistry because it made us smell worse after using! We tried reapplying throughout the day to clean underarms but it didn't make a difference. I also didn't care much for the packaging, I found it to be unnecessarily bulky and hefty. That being said, it did not irritate my sensitive prone skin even though this version contains baking soda. I personally would not recommend this without trying a sample first.

My Husband and I Both Love It

My husband and I both use this deodorant and it totally works! Smells like the essential oils listed in the ingredients and we've tested it even at the gym--works! The only reason I switched to try another deodorant is because this one didn't fit in my travel quart size bag.

great for men learning to go green!

This deodorant was a huge hit with my husband, I'd been trying to transition him off the old-school drugstore deodorant for over two years. While he liked the natural ones in a jar for their effectiveness, he didn't like sticking his finger into a jar of cream and having to rub it on then wash his hands. This is a much more user-friendly format if you want to help someone transition from toxic drugstore deodorant to natural. It has a very refreshing scent as well.

Liana G.

Verified Buyer

Husband's favorite.

I was trying to find a safer deoderant for my husband that he actually likes the feel and smell of and which application wise is like a conventional deoderant. This is it! Great smell, last most of the day, doesn't stain shirts, easy to apply. The only thing is I wish it last longer or that they made a larger tube! This is maybe my 8 purchase of this deoderant.

Just an okay deodorant

Deodorant has been the hardest product to replace since I've switched to green beauty. That said, this was an okay deodorant. The stick is convenient and easy. The formula doesn't give me a rash or break outs. The scent is fresh and nice, but it has no lasting power. I would say that I'm an above average sweater, so I need something that will keep me from smelling like a gym bag longer than an hour. And I've also noticed that when it wears off, my armpits smell WORSE than when I just go deodorant free! Something about this deodorant just doesn't mesh with body chemistry. The only way I can make this work is cleaning my pits and reapplying multiple times throughout the day. This method is a hassle but at least it keeps me fresh. I would suggest getting a sample to try out first and going from there.
Reviews Loaded
Reviews Added