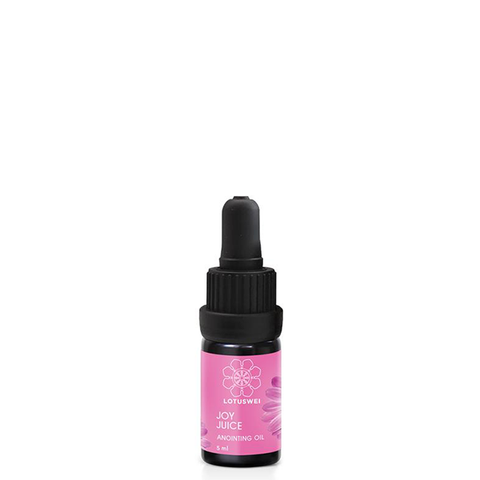 Lotus Wei
Joy Juice Anointing Oil
$40.00
Reviews/Questions
Total 5 star reviews: 5
Total 4 star reviews: 1
Total 3 star reviews: 0
Total 2 star reviews: 0
Total 1 star reviews: 0
100%
would recommend this product
Carol H.

just smells "happy!"

I usually get the Joy Juice Elixir but sometimes I treat myself to this and I really like putting it on the backs of my hands (as well as pulse points) and drifting off to sleep because it smells so yummy and "happy" to me. It also smells amazing mixed with the Florescent "Sundays" perfume Terri carries on the website because they both have jasmine in them. This can be rubbed on ears, behind ears and on wrists. Inhale deeply and it just works! I feel joyful right away - I also learned a great tip on the Lotus Wei blog to rub some in your hair near your face so you can smell it as you do things during the day - it lasts longer that way!

Jennee

Verified Buyer

Smells sooo good

I love the jasmine/orange scent to this. It's divine. And I can't stop using it. Anointing myself and stating an affirmation, it really does lift my mood.

Another HG product!

This sweet floral is very uplifting in both scent and to my senses/soul. I love mixing this with the other annointing oils esp infinite Love, Radiant energy, quiet mind and inner peace for a soul inspiring perfume which aids in meditation cocooning me in a bubble of superb Flower essences. I've gone through about a dozen of each oil if that tells you anything! The oils are my favorite! I annoint behind ears, wrists, everywhere the veins are to allow it to go straight to the bloodstream and I'm in bliss.

love the new dropper!

I have been using Joy Juice perfume in the anointing oil form since Katie developed it - as both a natural perfume at first with grape alcohol in a spray and then she put it into a roll-on bottle that was challenging because it dispensed too much or sometimes the rollerball got stuck in the cap. If you have used her anointing oils and experience this yourself, you can see how much care and dedication Katie & the Lotus Wei team put into constantly improving their application methods. This new dropper is wonderful because it makes the anointing oil last much longer - you can really control how much you dispense and makes it easy to apply! This is a wonderful improvement to a fantastic & magical product that I have adored for years!!!

Smells amazing.

It works well as a perfume, I'm not sure I believe the flower essence aspect is really doing anything from a few drops on pulse points, but it really is a happy uplifting aroma. Needs to be applied often—fades fast.
Reviews Loaded
Reviews Added