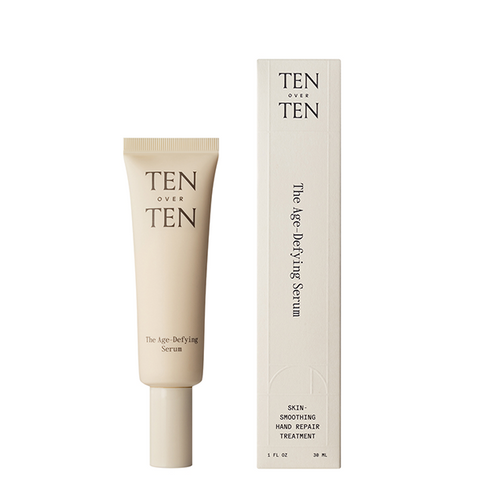 Tenoverten
The Age-Defying Serum
$20.00
You Might Also Enjoy
Reviews/Questions
2
Total 5 star reviews: 2
0
Total 4 star reviews: 0
0
Total 3 star reviews: 0
0
Total 2 star reviews: 0
0
Total 1 star reviews: 0
100%
would recommend this product
Solid option

I am obsessed with hand creams and I think I have tried most of the "clean" options - I'm definitely working my way through them, and I have used most of the top "conventional" and luxury ones. I am always interested in new brands that Terri brings in and I had actually tried Ten over Ten's Celery & Rose Cuticle Oils last year and liked them. I purchased all of the Ten over Ten products a few weeks ago and I'm still working my way through them, but I have used the Age- Defying Serum quite a few times, either alone or in conjunction with the Exfoliator as the first step and then the serum followed by either the Cocoon (and gloves), the Sleep Mask (gloves optional- Plume makes great ones that I buy here, just FYI), or the Heroine during the day. The serum is very lightweight and absorbs very quickly without a sticky residue. It has a light scent, which is described as cucumber I think (?) but I find it slightly herbaceous. I'm extremely sensitive to scents and I don't find this bothersome or overwhelming. I do have very dry skin, so this product alone isn't enough for me. I do need to use something over it. I think it was made that way though. It is very moisturizing however, so if you don't suffer from dry skin or are looking for something lightweight, but still effective, then this is a great option. I have a huge basket of hand products, so I'm enjoying playing around with everything from this brand (the tools are great too!) and I would recommend trying for the reason I…

Surprisingly Effective

There are lots and lots of hand products available in the marketplace but this one delivers as promised. It immediately makes the skin on my hands more supple and smooth. I already ordered more!
Reviews Loaded
Reviews Added