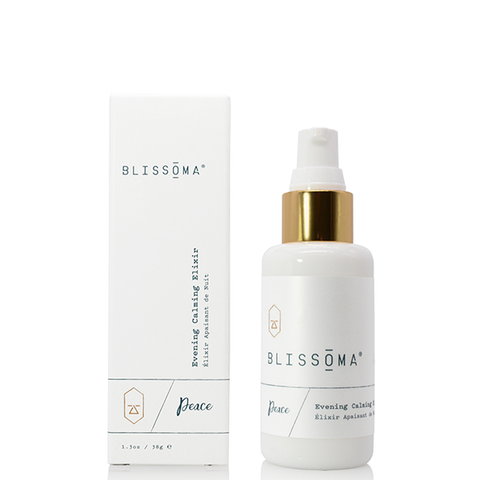 Blissoma
Peace - Evening Calming Elixir
$44.00
Reviews/Questions
Total 5 star reviews: 9
Total 4 star reviews: 0
Total 3 star reviews: 1
Total 2 star reviews: 0
Total 1 star reviews: 1
82%
would recommend this product
Overnight Results

My skin is reactive - regardless of whether a product is clean or not - and I live with daily redness. I had wanted to try Blissoma for a while but recently ordered a sample of Peace (sizeable sample, by the way). After two weeks of use, I am pleased to say that my skin does not negatively react to this but in fact seems to crave it. Overnight, my red cheeks and puffy areas were calmed, and I've continued nightly use since. I'm about to purchase a bottle of Peace for me and for my sister, as she deals with similar issues. Next I'll get a sample of the moisturizer for sensitive skin to see if it's a hit as well. Kudos to Integrity Botanicals for their samples. You guys sell me on products again and again.

Natalia B.

Good product

Very fluid product, work as excellent serum, I use it at night under balm

Another great product

I was trying to purchase the Blissom Sensitive Skin Serum (which was sold out), so I bought the Peace Evening Calming Cream instead. I'm so glad I did - this cream is just a little heavier than the sensitive skin serum, but so far has caused me no gunky pores, no breakouts, no strange rashes - I wake up and my skin is clear and gorgeous. I do use the two in combination - the sensitive serum first, since it's lighter, then the night cream on top. I think that it is too heavy for me to wear during the day (I haven't tried the day cream yet). So far, everything I've tried by Blissoma has well exceeded my expectations. I look forward to trying more of their line - I expect it will all be exceptional. Thanks for making such great products for sensitive skin!

Sweet Dreams For Skin

This serum smells a bit stronger to me than the Awake or the Smooth moisturizers I purchased. It has a more earthy herbal smell which is calming, but may be a bit strong for me to use in the AM. It still has a firming effect on my skin like their other moisturizers, but I can tell that it's more hydrating than Awake or Smooth due to the extra oils in it. It is good for nighttime use, but perhaps a bit too heavy for my combo skin to use in the morning or under makeup. Overnight, however, it's good to use this and let my skin soak up the extra moisture. I have not had a bad reaction to this and so far my skin is glowy, hydrated, calm and clear when I wake up after using this at night. To date, all products I've tried from Blissoma (been using for a couple of months) have had a positive effect on my skin and have calmed it and cleared it significantly. I have not had a bad reaction or had any breakouts since using their products which is amazing to me. Very pleased.

Lovely smell and feel

I've been using this every night for a few weeks now and am quite happy with it. The smell is fantastic and the lotion provides moisture that's sufficient for this time of year for my combination skin. It is quite light so I might need something heavier in winter months. It has not caused me to break out as some products do.
Reviews Loaded
Reviews Added