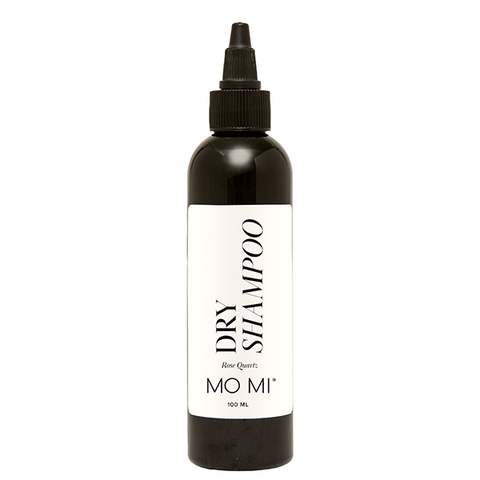 MO MI Beauty
Dry Shampoo
$35.00
Reviews/Questions
Total 5 star reviews: 7
Total 4 star reviews: 1
Total 3 star reviews: 0
Total 2 star reviews: 0
Total 1 star reviews: 0
100%
would recommend this product
So far I really like the product.

I'm still kind of new to this product and need to try it out for longer and in different ways. I don't think it is a total rockstar for when your hair is a total grease bomb, but maybe it's healthier for your hair and scalp that way anyways. I was always creeped out by traditional dry shampoos because of their ingredients and strong smells, like I needed to run out of the bathroom to get fresh air after spraying. I have tried a few powder and spray products that are on more of the non-toxin side, but this is my favorite so far. I love how the packaging looks and how the product is dispensed. It feels like sprinkling magic on my head, especially since the powder is slightly pink, sparkly, so fine, and smells good. I love knowing it has the added power of gem and flower essences. It blends in really easily too. The one thing about it is that it is harder to get the hair that hangs lower down by your face where it tends to get the greasiest from figures always touching it or facecare products than with traditional spray dry shampoos. Also, if it could add a little more volume, that would be cool too. It is a little expensive for kind of a small bottle size, but maybe it will last a long time. But I do tend to avoid using it because I don't want to use it all up fast. My hair is fine but a lot of it, and it is like a really dark, dirty, reddish blonde by theway.

Good consistency and doesn't hurt my scalp

I really like this dry shampoo, it works great and doesn't irritate my scalp. It comes in a squeeze bottle so you have to be careful not to squeeze too hard and blow powder everywhere, but it works great. I tend to have really greasy hair and this works well to give me some lift and texture. You just have to really rub it in

Best dry shampoo

This is my favorite dry shampoo! I have fine/thin hair and my scalp tends to get pretty oily. This dry shampoo does an amazing job of keeping the oiliness at bay, without making my hair feel gross or weighed down. I also love the bottle and the fact that I'm able to better control the application.

Heather M.

Smells great

Nice powder consistency. Lovely fresh smell. The larger size has an easy nozzle dispensary. With my brunette hair I do have to rub it in after applying - it does dissipate. It does not make my head itch like the spray dry shampoos.

Perfect for moms on the go!

Blends well into my scalp/roots/hair...it's a light pink color, not white like a lot of dry shampoo powders. I've used white dry shampoos before and have had friends ask what's that white stuff in my hair! I'm also a new mama and barely have time to wash my hair and this is the perfect fix! I purchased the travel size and will be buying the full size soon. Also smells great, has a sweet floral scent.
Reviews Loaded
Reviews Added